---
| Add Animation | |
| --- | --- |
| Blink/wink | $6 |
| Expression change | $5 |
| Hand motion | $5 |
| Sparkle | $4 |
| Complex/other | $5+ |
---
All animated icons come with one 2000x2000 png, as well as one 300x300, one 200x200, and one 100x100 gif
Note
Sparkle animation may be any shapeChibi icons are pre pose only your welcome to pick or I will pick one I feel your oc... will look best inMale icons are also pre pose at this time
---
---
---
| | |
| --- | --- |
| Bust | $15 |
| Half Body | $25 |
| Knee Up | $30 |
| Full Body | $40 |
| Dakimakura PG | |
| Half Body | $30 |
| Full Body | $50 |
| Dakimakura NSFW | |
| Half Body | $40 |
| Full Body | $60 |
no backgrounds
Shaded sketch 35% off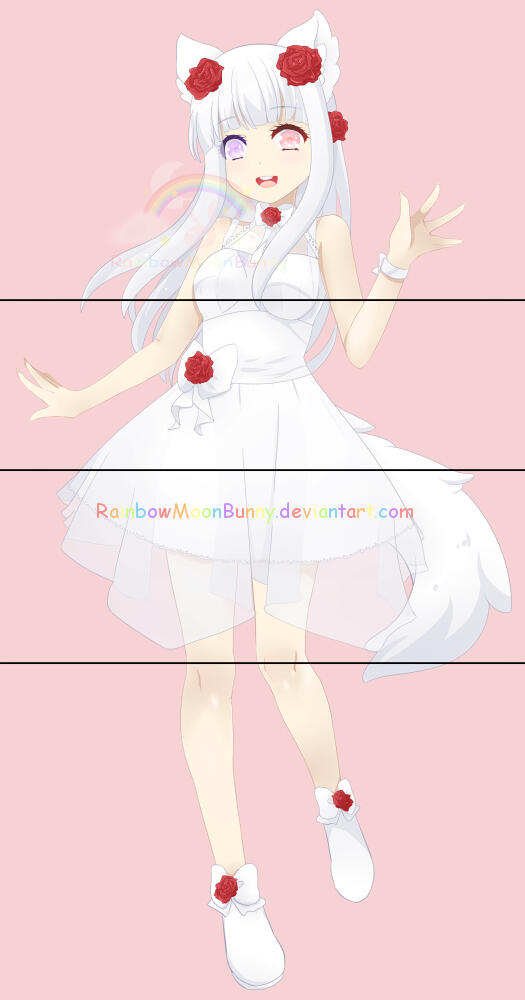 ---
extra charges may apply for complex designs

All commissions come with wip

things i will commonly say no to
(if i say yes there may be an extra charge)
Couples... unless they are ych
Custom designs
Male characters
Hats
Animals...
Props (food, masks, weapons, ...)
bald/buzz... and cut facial hair
Blood
robots/armor - never
fetishes - never
Form
Char...ref:
Type of commission:
Animation: (this is for icons only)
BG: (icons/ 90s style only)
Sub: (90s style only)
Other: (anything you feel i need to know, questions...)
Payment: (DA points or paypal )
By ordering a commission from RainbowMoonBunny (RMB), you have agreed to the following terms and conditions:
(i will not be responsible for any inconvenience that may occur if you choose not to read the TOS by commissioning me you are, by default, agreeing to my terms so it is important you read them!)
Payments

If paying with PayPal an invoice will be sent.

If paying with DA points, the payment must be sent via the Give option or pool. ($1 = 100 DA Points)

The customer must pay up front in full before the artist can begin work on the commission.

The artist has the right to negotiate extra fees, depending on the character's design complexity...

The artist has the right to decline, or cancel a commission for any reason.

NO Refunds!

A full/partial refund will only be given if I am unable to complete your commission. if this is ever the case, I will message you and explain the situation (other words if you have resaved a WIP line art... there will be a partial refund NO FREE ART)

After I have sent you a sketch of your commission I will not continue to work until you have approved the sketch with that if you take longer than 24 h to approve please understand that it will take longer for me to complete your commission

All payments must be maid with in 24H from time of exception.
Commissions may tack up to 2 weeks-4+ months to complete

Rights & Ownership

The customer cannot claim the commissioned artwork as their own.

The customer cannot sell, trade, or use the commission for profit / no commercial use.

The artist has the right to submit the commissioned artwork to the internet, unless requested otherwise by the customer.

The customer has the right to submit the commission on the Internet, only if the artist is credited.
Waiting List

You are subject to price changes

You are welcome to ask for more than one slot

You may ask to be removed at anytime

You have 48h to respond after I have told you I am ready if you do not answer you will be removed from the list